Global Bicycle market expected to reach $59.9 billion by 2021
Global market research firm Lucintel has indicated that the worldwide bicycle market should grow to reach $59.9 billion by 2021, with CAGR of 2.4% from 2016 to 2021.
Echoing both market reports elsewhere and industry predictions, the study has pointed to the pedal-assist market as a driver of business, pointing to the relatively low cost of transportation and the potential of the e-bike as a "green vehicle".
The Asia Pacific is expected to remain the largest region during the forecast period, supported by a large population and increasing usage of bicycle as a sustainable mode of transportation. The region is also expected to witness the highest growth over the forecast period driven by population growth and Government initiatives to promote sustainable transportation and a healthier life style. Growth in economies and rising disposable income of the middle class are expected to increase demand for premium/high end bicycles in this region.
Lucintel's study is broken into global and regional segments, including market size estimates, trend and forecast analysis, growth opportunities, strategic analysis, emerging applications and segmentation analysis.
The report, titled "Growth Opportunities in the Global Bicycle Industry 2016-2021: Trends, Forecast, and Opportunity Analysis"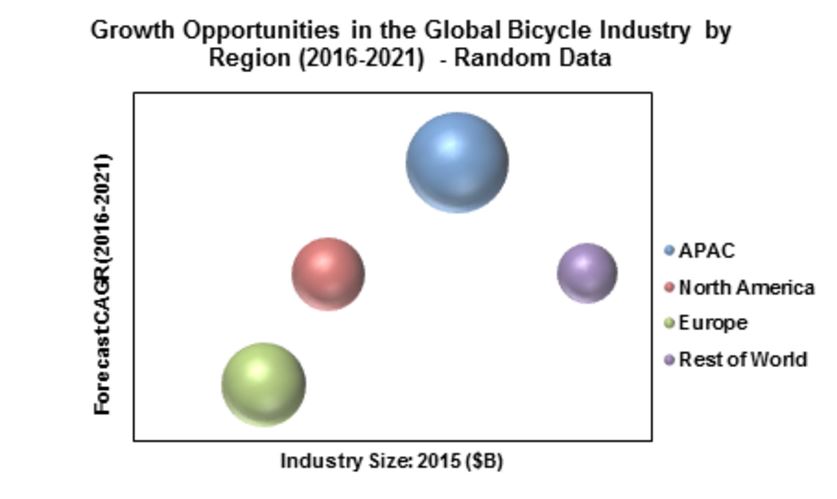 first published https://cyclingindustry.news/global-bicycle-market-expected-to-reach-59-9-billion-by-2021-says-lucintel-report/